Next available delivery
27 August 2014
Aster cassandra 80cm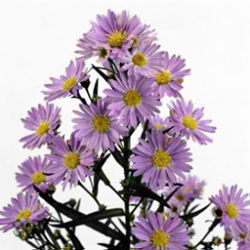 £0.59

per stem
Colour

Length

80 cm

Sold in

Batches of 25 stems

Quality

BA
We can deliver directly to your door in mainland UK four times a week. You can have your flowers delivered on a Tuesday, Wednesday, Thursday or Friday.
At the checkout you will see 3 fixed cost delivery options which apply to mainland UK weekday delivery for any sized order:
Any time before 5.45pm: £14.95
Before 12.45pm: £19.95
Before 10.45am: £24.95
Alternatively, customers choosing to collect from Triangle Nursery Ltd are not charged delivery costs - please see our hours of business to make sure we are open at your time of collection. Orders cannot be left outside our premises for out of hours collection.
Please note wholesale flowers need conditioning correctly and should be delivered 2-3 days before your event to hydrate & develop properly - delivery should never be made on the same day as your event.
For further information please click here.
Aster, (otherwise known as September Flower), is a genus of the Asteraceae family. The name 'aster' is derived from the ancient Greek word meaning 'star' because of it's...