Due to a Dutch Bank Holiday (Kings Day), there will be no deliveries available on Tuesday 1st May
From Rijnsburg auction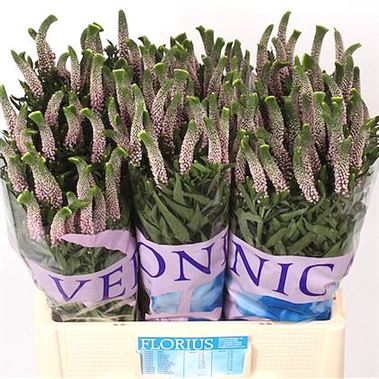 Veronica Smart Enjoyce 60cm is a beautiful Pink / Green cut flower - wholesaled in Batches of 50 stems.
Colour

Length

60 cm approx

Sold in

Batches of 50 stems

Quality

A1
This product is unavailable
If you would to discuss alternative options, please call our experts on: 01394 385832 or
MAINLAND UK DELIVERY: We can deliver directly to your door in Mainland UK five times a week. You can have your flowers delivered on a Tuesday, Wednesday, Thursday, Friday or Saturday.
At the checkout you will see 4 fixed cost delivery options which apply to mainland UK delivery for any size order:
Mainland UK week days any time before 5.45pm:

£9.95*

for any size order
Mainland UK week days before 12.45pm: £15.95* for any size order
Mainland UK week days before 10.45am: £26.95* for any size order
Mainland UK weekday delivery after 12.00pm on your preferred delivery date: £15.95* for any size order.
Mainland UK Saturday delivery any time before 5.45pm is charged at a flat rate of £26.95* for any size order.
Republic of Ireland, Northern Ireland, Channel Islands & European Countries listed above will be quoted per order - call +44 1394 385832 for details.
All UK delivery costs are fixed, which means you can't pay any more than the published prices - you can order as much or as little as you like for these prices. If your order is for floral sundries only without flowers - delivery is charged at just £7.95* per order.
* All quoted delivery costs exclude UK VAT.

IMPORTANT: Always aim to have your wholesale flowers delivered 2-3 days before your event to ensure plenty of time to hydrate & condition them correctly.
Fresh cut veronica is a genus of the Plantaginaceae family and is generally thought of as a summer flower - in fact veronica is more or less available all year round these days as it is commercially grown under glass. Veronica has elegant spires of flowers and can vary from 60cm to 80cm tall depending on the variety and grade required.

Other Veronica & Lysimachia
You may be interested in...