Remember - delivery companies are extremely busy on the run up to Christmas. Please consider receiving your order a day earlier to avoid any dissapointment.
DELIVERY BETWEEN XMAS & NEW YEAR - We are offering just 1 delivery day due the Dutch Auction dates -
For Delivery on Friday 29th December: Please place you order online between: Friday 22nd Dec - Tuesday 26th Dec (by 11pm)
From Aalsmeer auction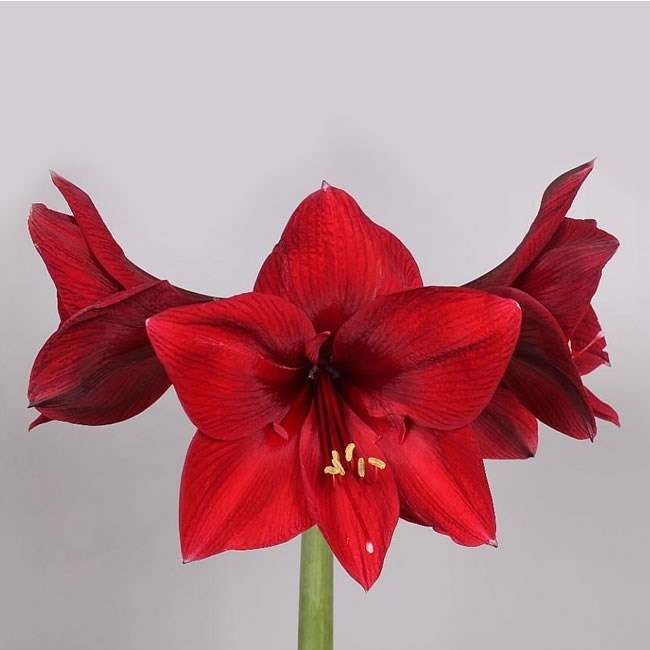 £2.67

per stem
HIPPEASTRUM BRITNEY is a tall Red Amaryliss variety wholesaled in Batches of 18 stems. AMARYLLIS BRITNEY is mainly thought of as a Christmas flower but is available for many months.
Colour

Sold in

Batches of 18 stems

Quality

A1
MAINLAND UK DELIVERY: We can deliver directly to your door in Mainland UK five times a week. You can have your flowers delivered on a Tuesday, Wednesday, Thursday, Friday or Saturday.
At the checkout you will see 4 fixed cost delivery options which apply to mainland UK delivery for any size order:
Mainland UK week days any time before 5.45pm:

£9.95*

for any size order
Mainland UK week days before 12.45pm: £15.95* for any size order
Mainland UK week days before 10.45am: £26.95* for any size order
Mainland UK weekday delivery after 12.00pm on your preferred delivery date: £15.95* for any size order.
Mainland UK Saturday delivery any time before 5.45pm is charged at a flat rate of £26.95* for any size order.
Republic of Ireland, Northern Ireland, Channel Islands & European Countries listed above will be quoted per order - call +44 1394 385832 for details.
All UK delivery costs are fixed, which means you can't pay any more than the published prices - you can order as much or as little as you like for these prices. If your order is for floral sundries only without flowers - delivery is charged at just £7.95* per order.
* All quoted delivery costs exclude UK VAT.

IMPORTANT: Always aim to have your wholesale flowers delivered 2-3 days before your event to ensure plenty of time to hydrate & condition them correctly.
Hippeastrum, (otherwise commonly known as Amaryllis), is a genus of the Amaryllidaceae family and is native to South American regions such as Mexico, Argentina and the Caribbean.

Other Hippeastrum / Amaryllis
You may be interested in...