Pennisetum Grass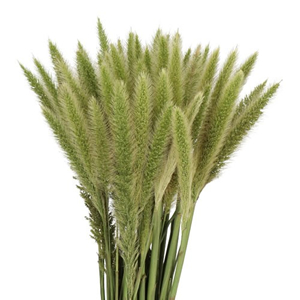 General Availability Chart
| Jan | Feb | Mar | Apr | May | Jun | Jul | Aug | Sep | Oct | Nov | Dec |
| --- | --- | --- | --- | --- | --- | --- | --- | --- | --- | --- | --- |
| No | No | No | No | Yes | Yes | Yes | Yes | Yes | Yes | Yes | No |
| Jan | Feb | Mar | Apr | May | Jun |
| --- | --- | --- | --- | --- | --- |
| No | No | No | No | Yes | Yes |
| Jul | Aug | Sep | Oct | Nov | Dec |
| --- | --- | --- | --- | --- | --- |
| Yes | Yes | Yes | Yes | Yes | No |
To get the best from your wholesale cut pennisetum please read the care instructions below carefully:
Cut the stems at a 45 degree angle with a sharp knife.

Fill sterilised buckets with luke warm water and add flower food.

Place the pennisetum in the buckets.

Leave over night to condition before using.
Never leave cut flowers in direct sun light, near a radiator, in a draft or near fruit. (The gas used to ripen fruit will harm most flowers). Keep the pennisetum in a cool place and always keep out of the way of children.
£5.13 per stem (ex VAT)
Available to deliver 05 Jun to 08 Jun
£3.73 per stem (ex VAT)
Available to deliver 05 Jun to 08 Jun
View all Tropical Flowers
£5.13 per stem (ex VAT)
Available to deliver 05 Jun to 08 Jun
£3.73 per stem (ex VAT)
Available to deliver 05 Jun to 08 Jun