How to Make an Autumn Wreath
Time: 25 – 30 minutes
Wreaths aren't just for Christmas! Decorate your home, office space or window display with this fun autumn wreath decorated with orange slices, Eucalyptus and Amaranthus. Follow the steps below to create your own!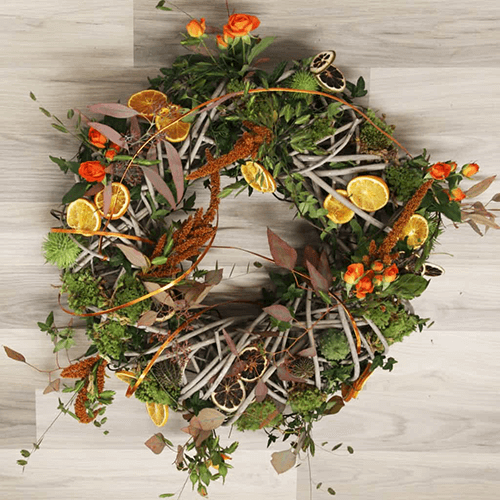 Step by Step Guide
Divide the water vials on the wreath and secure with the wire.

Fill the tubes with water.

Attach the Ivy trails (up to 10 depending on the size of the wreath) through the crown of the wreath. 

Attach the dried fruit and oats with the wire and add to the wreath creating a well balanced look. 

Add the Eucalyptus fresh or preserved to the wreath. If you are opting for the fresh Eucalyptus, you can divide over the various water vials.

Add the copper Amaranthus and Spray Roses into the water vials.

Push little buns of the moss and cucumis (optional) into the wreath till they are secure.

Loop the aluminium wire in copper over the crown of the wreath for added decor.