How to Make a Boho Vase Arrangement with Lisianthus
Time: 10 to 15 minutes
Lisianthus, one of the most romantic flowers available and therefore the perfect flower to add to this arrangement. Combine the stunning Lisianthus with Syringa, Limonium, Clematis and Eucalyptus. Follow the steps below.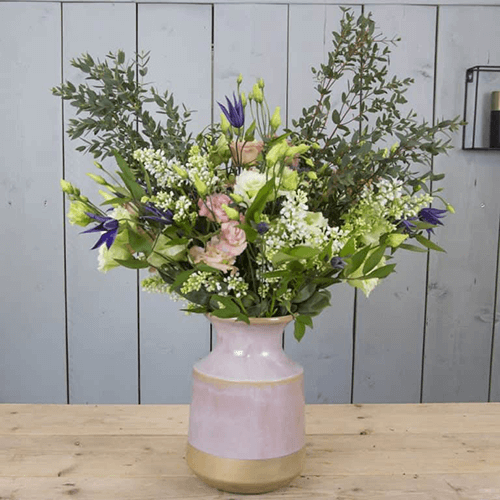 Step by Step Guide
Fill the vase with fresh, clean water and add flower food (optional).

Make sure all of the flowers have been conditioned before you start preparing them, remove all the foliage from beneath the water line.

Start by adding the foliage, Eucalyptus Parvifolia (1/2 or 1 bunch) to the vase to create a frame. 

Add the flowers by choice, Lisianthus (10 each), Syringa (10 stems), Clematis (10 stems) and Limonium (3 stems) make sure you differ the lengths of the stems to create a bohemian, playful look. 

Place the outer flowers slightly lower for depth.