How to Make a Christmas Vase Arrangement with Ilex and Spruce
Time: 15 to 20 minutes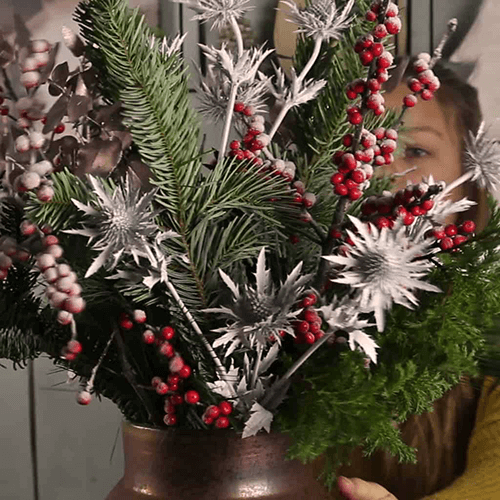 Step by Step Guide
Fill the vase with fresh, clean water. Add flower food (optional).

To create a good base for the arrangement, start by adding the big green branches of Blue Spruce.

After, add the other green matrial to the vase - this will add as a frame to add your other flowers to the arrangement. Cut the branches if necessary and remove the lower needles.

After you have added the green material, you can now add the Eryngium (5 stems), Hypericum (8 stems), Ilex Frosted (5 stems), Asparagus (4 stems) and Eucalyptus (4 stems). The stem count will depend on the size of the vase.

For further decoration, you can add dried or artificial berries, balls or poinsettias on sticks to the arrangement.