How to Make a Colourful Autumn Vase Arrangement
Time: 10 to 15 minutes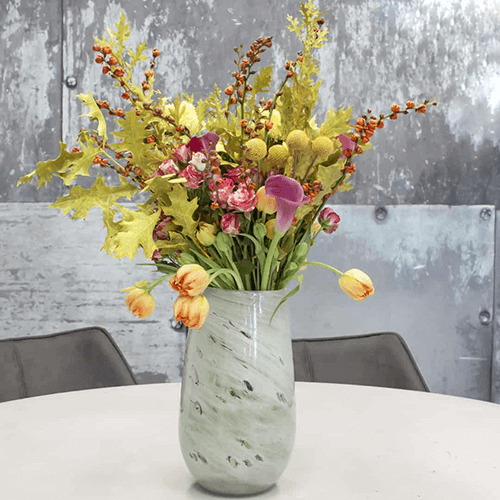 Step by Step Guide
Fill the vase with fresh, clean water and add flower food (optional).

Begin to create the bouquet, using the oakleaves as a base, adding the Crocosmia Pods (9 stems) into the design. 

As you work on the bouquet, you will need to create a spiral effect, where each stem that is added to the bouquet is slanted in the same direction as the previous. As you build the bouquet up, you will twist the bouquet. 

Continue to add the flowers to the arrangement, including the Calla Lilies (8 stems), Chrysanthemum (5 stems), making sure that it is well balanced as you build on the arrangement.

Keep the Tulips (6 stems), Spray Roses (5 stems) and Craspedia (7 stems) close to the edge of the bouquet.

Once you are happy with the overall look of the bouquet, you can now secure the tieing point with twine and waterproof anchor tape.

Depending on the size of the container you are placing the bouquet into will depend on the length that is cut off. Once you have cut the stems, you can carefully place the bouquet into the vase.