How to Make a Creative Autumn Arrangement
Time: 15 to 20 minutes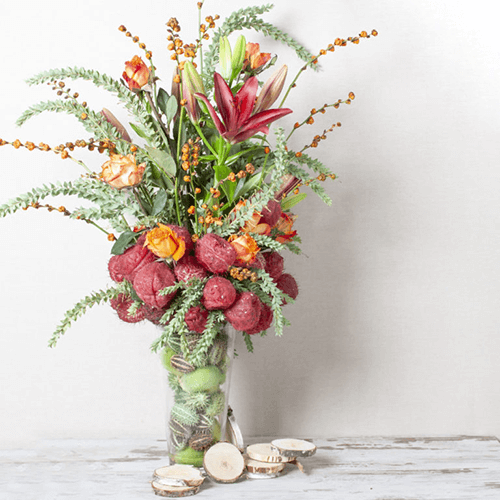 Step by Step Guide
Fill a vase with Cucumis (or alternatively, you can use gourds / pine cones etc)

Position your plastic dish (i.e. rampside dish, square round etc) at the top of your container and add the soaked floral foam brick (you may need to cut to size). Secure the dish on the vase by using clear waterproof tape. 

Start by creating the base of the arrangement using the Acacia (12 stems).

Once you have a nice green base, you can add the lilies (3 stems) and the roses (6 stems) to the centrepiece. Making sure you keep the stems quite long. 

Add the Gomphocarpus (or alternatively, Amaranthus - 4 stems), making sure that it hangs over the edge of the vase. 

Finally add the Crocosmia Pods (12 stems) to the design. Push into the floral foam bricks. 

Should you have any gaps, you can fill in with any remaining flowers or foliage.