How to Make a Vase Arrangement with Delphinium and Eremurus
Time: 5 to 10 minutes
If you are looking for a extravagant, striking arrangement to decorate your home this summer, we have just the thing for you! Create this design using Blue Delphinium, Alliums and Eremurus to a tall vase in your hallway, dining room or corporate work space. All work well together for height and constrast.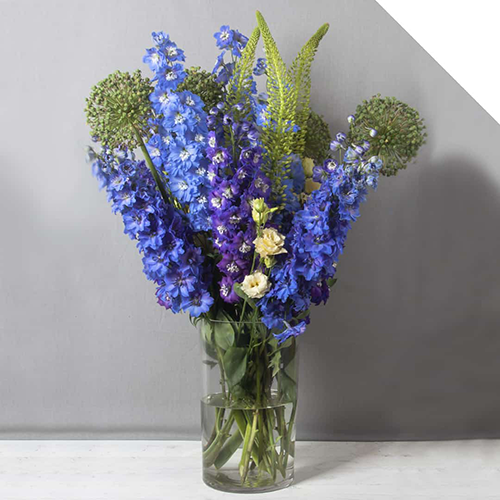 Step-by-Step Guide
Fill your vase with fresh, clean water

Start with your Delphinium (one variety - 5 stems). Trim the stems and place into the vase. 

Now add the Lisianthus (10 stems) and the second variety of Delphinium (5 stems) into the vase. Make sure you spread them evenly in the vase to create an aesthetically pleasing design. 

Finally add the Eremurus (3 stems) and Allium (5 stems) in between the other flowers in your bouquet.