How to Make an Elegant Centrepiece with French Tulips
Time: 10 to 20 minutes
To enhance your home interior this Spring, use the best products available: Syringa, French Tulips and Forsythia! Follow the steps below to create your own centrepiece.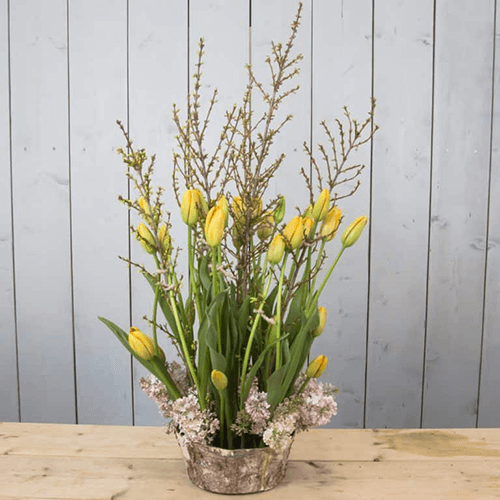 Step by Step Guide
Soak the floral foam in fresh, clear water.

Add the floral foam brick to the container.

Start with the Forsythia, cutting into lengths of approx. 10cm below the first branch. Place the stems in the middle of the planter, and push it into the foam.

Add the French Tulips in various heights into the design. Place long Tulips around the centre and short ones around the edge of the planter.

Use the natural twine to tie some instable Tulips to the Forsythia.

Now add the Syringa. Cut the Syringa to a total length of approx 15cm. Place them around the edge of the planter so it covers up the floral foam.