How to Make a Large Vase Design with Hydrangea and Gladioli
Time: 10 to 15 minutes
For that WOW-factor arrangement, we have just the design for you. Using the large Hydrangea and high Gladioli, this design is a real eye-catcher that is sure to turn heads!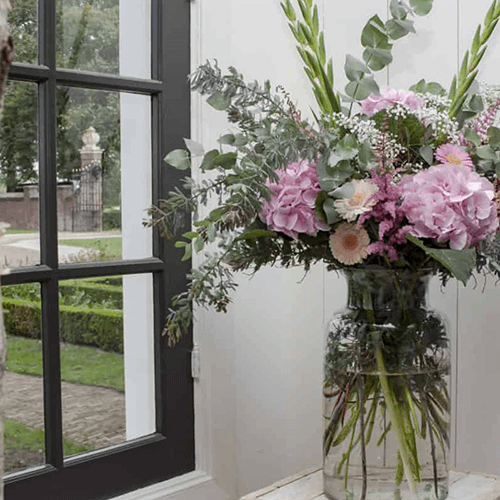 Step-by-Step Guide
Fill the vase with fresh, clean water and add flower food (optional)

Start by adding the Acacia to the vase to create a base for the centrepiece.

Now add your focal flowers, the Hydrangea (4 stems) and Gladioli (8 stems) to the vase.

Continue to add the remaining flowers, Astilbe (7 stems), Gypsophila (5 stems) and Gerbera (4 stems).

Finally, add one bunch of Eucalyptus into the arrangement intertwined between the flowers. Make sure you keep the arrangement well-balanced.