How to Make a Lilac Romantic Bridal Bouquet
Time: 15 to 20 minutes
This pastel colour palette has been increasingly popular in recent years. Combining Roses, Gypsophila and Clematis make this a perfect wedding bouquet and very suitable for all seasons.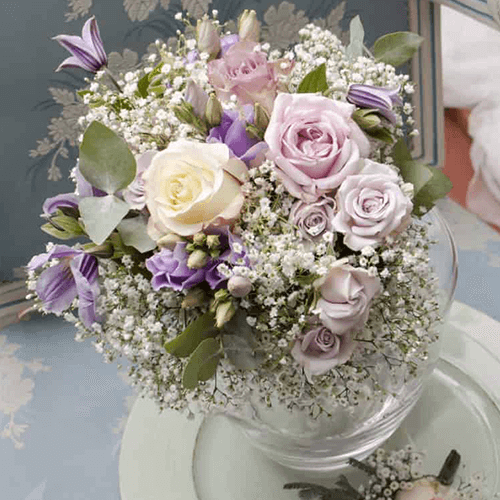 Step-by-Step Guide
Start making the bouquet in your hand.

Start by using the Gypsophila to create a base for the bouquet, adding the spray roses and Eucalyptus.

Now add a Rose, Lisianthus and Clematis, intertwining the Gypsophila or Eucalyptus in between.

Continue to add the remaining flowers and add the most of the Gypsophila to the edge of the bouquet

Cut the stems to the desired length

Secure with twine initially and the waterproof anchor tape on top (pot tape).

Place the bouquet in a bucket or living vase overnight and you can add the decorations the morning of the wedding.

Bind the satin ribbon or rope around the stems to hide the mechanics and create a handle for the bride to hold. Secure with decorative pins.

Place back into water until required. Make sure to remove and dry off the stems to save any dripping on the brides dress.