How to Make a Romantic Urn Pedestal Arrangement
The beautiful colours of the Classic Hydrangeas at this time of year really stand out in this centrepiece. Romantic and elegant colours are popular leading into the autumn months. All the colours of the Hydrangea are complimented by the other colour shades in our arrangement, the white of the Scabious, pink of the Protea and Lisianthus and soft green from the Eucalyptus.
Time: 15 to 30 minutes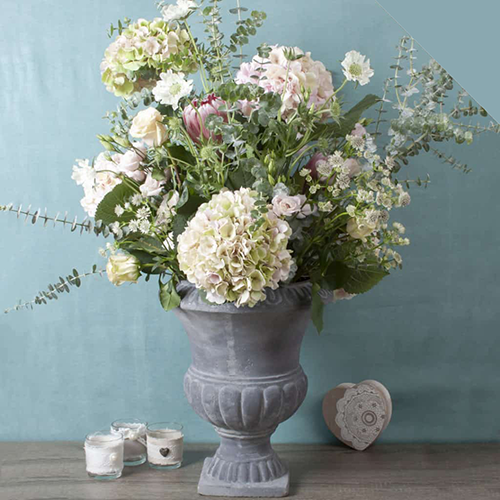 Step-by-Step Guide
Soak the floral foam in a bucket of fresh, clean water.

Push the foam into the vase and secure with anchor tape.

Start by adding the Eucalyptus into the floral foam, positioning on each side to keep the arrangement well-balanced.

Next, add the Hydrangea (5) into the arrangement, making sure you keep the stems long.

Continue to add the remaining flowers into the arrangement, Protea, Lisianthus, Scabious and Astrantia.

Finally, add the Roses (nude) to your centrepiece.