How to Make a Rustic Centrepiece with Hyacinths
Time: 10 to 20 minutes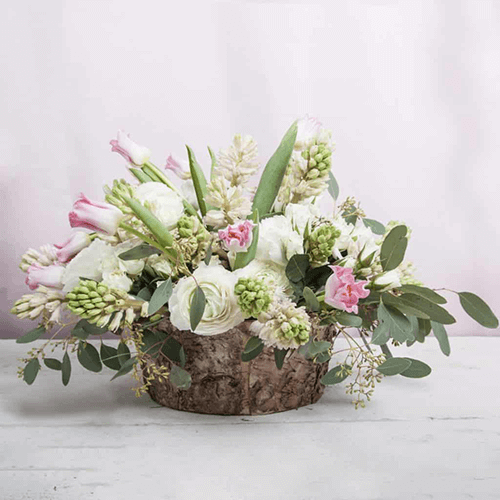 Step by Step Guide
Soak the floral foam bricks in clean, fresh water.

Add the floral foam brick to the container of choice.

Start by creating a base with the Eucalyptus. Seperate the side twigs and put the little branches int he foam at the sides of the planter, as well as the middle.

Now add some Spray roses (15 stems). Cut the stems approx 10cm so you can push them easily into the foam. Spread evenly across the arrangement and keep a round shape.

Add the Hyacinths. Keep the stems a little bit longer than the Spray roses, so they really stand out.

Add the Ranunculus and the Tulips. Keep some of the stems of the Tulips a little longer, so they stick a bit more than the other flowers. This will give your design a playful look.

Fill the open spaces left with the remaining Spray roses.