How to Make a Pretty Frilly Tulip Vase Arrangement
Time: 15 to 20 minutes
Who can resist these beautiful frilled tulips? Tulip Queensland has a stunning, romantic appearance that matches beautifully with other Spring flowers. Follow our step by step guide below to create your own to decorate your home.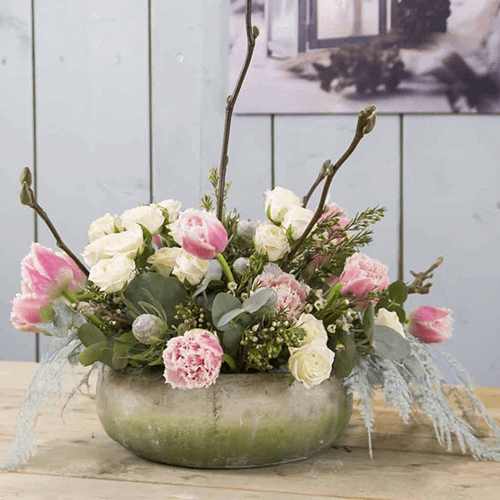 Step by Step Guide
Soak the floral foam bricks in fresh, clean water. 

Position the floral foam brick into the container (depending on the size and the shape - fill in the gaps with the floral foam, you may need to cut into smaller pieces).

Start with creating the base with the greenery, Asparagus and Eucalyptus. Make sure the stems are approximately 15 to 20cm in height so you keep your base compact.

Now start to add the Magnolia. Cut the branches into small peices (approx. 30 stems) and position into the floral foam. Make sure to position the branches evenly throughout the arrangement.

Next, add the Brunia Silver and Spray roses to the design for a sturdy and romantic style. You can seperate the flowers to divide them equally into the design. 

Next, add the Tulips! Divide the Tulips evenly through the design. 

Finally, add the Waxflower to the design. Make sure all the floral foam is covered with flowers.