How to Make a Breathtaking Flower Dress
Time: 70 – 100 minutes | Difficulty: moderate (***)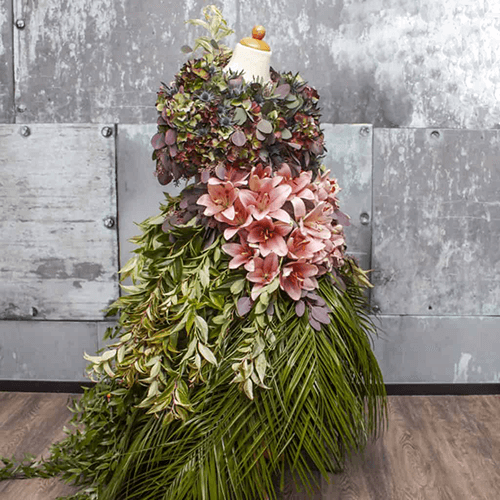 Step-by-Step Guide
Wrap the chicken wire around the mannequin

Start by adding the Phoenix Robellini (2 bunches) to make the lower part of the dress. Push the stems through the chicken wire and secure with wire if necessary. 

Now add the Soft Ruscus (3 bunches) at the lower back of the dress 

Use the Leucothoe (20 stems) to fill up the rest of the lower back and work your way up the spine towards the neck. 

Now use the Eucalyptus Populus (2 bunches) to create the base of the chest area 

Fill in the gaps on the chst with Eryngium, Clematis and Hydrangea (or flowers of choice). 

Group the lilies (20 stems) together at the front of the dress beneath the waist (as shown in the photograph). 

You can use water vials for all of the flowers to help the longevity of the stems whilst in the display.