How to Make a Pretty Pink and Green Wedding Bouquet with Hyacinths
Time: 10 to 20 minutes
This beautiful Spring bouquet is pretty in pink, fragrant and delicate, what's not to like? Follow our steps below on How to Create this bouquet for an upcoming wedding.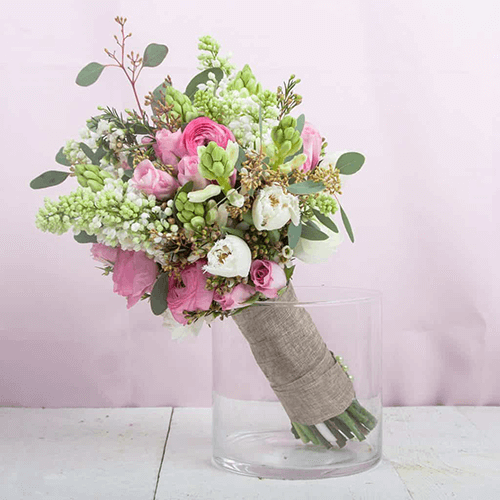 Step by Step Guide
Start the bouquet in your hand (depending on your preferred hand). Hold the focal flower, the Syringa and add a few stems of Eucalyptus around the centre bloom. 

Add the Ranunculus, Tulips, Hyacinths and Waxflower by your own choice. Make sure you make a nice mixture of colour and textures in the bouquet. Always add the new stems in the same direction to create the spiral effect. 

Add the roses in small groups of threes. Keep the bouquet as compact as possible. Make sure you grip the bouquet tightly and carefully twist it in your hand as you begin to add new flowers. 

To create a nice round shape, you can add each flower slightly lower than the one before.

Once you are happy with the bouquet, cut the stems to the same length and secure the stems with twine and anchor tape.

Once you have completed the bouquet, you will need to store in water in the correct environment.

On the morning of the wedding, you can now decorate the handle with the ribbon. Dry the handle that will form the handle with a clean cloth. Bind the stems with the ribbon and secure with pearl or diamante pins, pushing the pin in at an angle into the bouquet.