How to Make a Christmas Vase Arrangement with Tulips
Time: 15 to 20 minutes
Tulips are quite simply the perfect flowers to decorate your home this Christmas and create that wintery atmosphere during and after the holidays! Complete the look with Syringa, Daffodils and Asparagus. Follow the steps below to achieve the look in your home.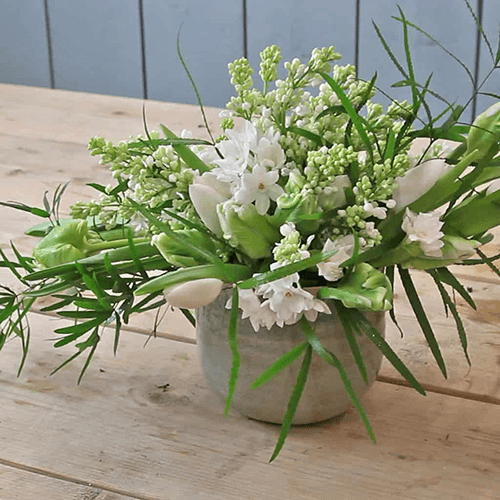 Step by Step Guide
Soak the floral foam bricks in fresh, clean water.

Position the floral foam in the pot (of choice) and cut the top of the floral foam to make sure that it equals to the height of the pot.

Now you can start adding the Asparagus to create the base. Divide the stems into multiple, smaller pieces and place into the foam.

Now you can start to add the flowers to the design. Add a stem of the Syringa into the middle of the arrangment.

Add some tulips to each side of the container to keep the design well balanced. Place them to a slight angle (horizontal). Make sure you keep the stems a bit longer.

Then add the Daffodils to the design, along with the rest of the Tulips and Syringa. You can divide the Syringa stems into little pieces, so you can divide them better into the design and keep in proportion.