Loose Packed V Secure Boxed
Loose Packed Germini
Loose packed germini tend to be a lower grade and are packed in loose stems for transport. This grade of germini is typically used to make cheaper bouquets & are often seen for sale outside green grocers. We would not recommend this grade for weddings and prestige events. Always buy more loose packed germini than required because they are easily damaged in transport.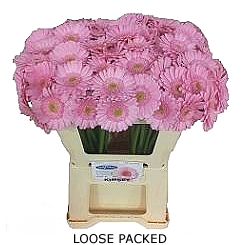 Secure Boxed Germini
Secure boxed germini are of a much higher grade than loose packed and are perfect for wedding grade events. Each individual stem is securely packed in special fitments inside the box. Always try to use secure packed germini if you are looking for higher grade flowers.