Order now for delivery on...
Need to order for a future event? Find out how here
Anemones (Wind Flowers)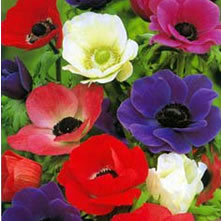 Anemones, (also known as Wind Flowers), are a genus of the buttercup family Raununculaceae and are closely related Pasque flowers and Hepaticas.
The word 'anemone' is derived from the Greek word 'anemos', meaning 'wind' – hence the name Wind Flowers.
Anemones are available in a beautiful range of bright and pastel colours. In the wholesale flower markets cut anemones are sold in wraps of 50 stems. If conditioned correctly, anemones should have a vase life of up to 7 / 9 days. Slowly, anemones are being used more often in wedding flowers these days - and why not?... because they look great!
You can buy wholesale anemones on our Web-Shop by clicking here.
GENERAL AVAILABILITY CHART
| Jan | Feb | Mar | Apr | May | Jun | Jul | Aug | Sep | Oct | Nov | Dec |
| --- | --- | --- | --- | --- | --- | --- | --- | --- | --- | --- | --- |
| | | | | | | | | | | | |
To get the best from your wholesale cut anemones please read the care instructions below carefully:
Cut the stems at a 45 degree angle with a sharp knife.

Fill sterilised buckets with cold luke warm and add flower food.

Place the anemones in the buckets - up to their necks in water.

Leave over night to condition before using.
Never leave cut flowers in direct sun light, near a radiator, in a draft or near fruit. (The gas used to ripen fruit will harm most flowers). Keep the anemones in a cool place and always keep out of the way of children.