Triteleia (Brodea)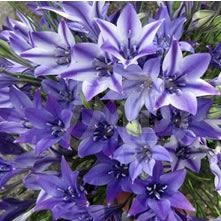 General Availability Chart
| Jan | Feb | Mar | Apr | May | Jun | Jul | Aug | Sep | Oct | Nov | Dec |
| --- | --- | --- | --- | --- | --- | --- | --- | --- | --- | --- | --- |
| No | No | No | Yes | Yes | Yes | Yes | Yes | No | No | No | No |
| Jan | Feb | Mar | Apr | May | Jun |
| --- | --- | --- | --- | --- | --- |
| No | No | No | Yes | Yes | Yes |
| Jul | Aug | Sep | Oct | Nov | Dec |
| --- | --- | --- | --- | --- | --- |
| Yes | Yes | No | No | No | No |
To get the best from your wholesale cut triteleia please read the care instructions below carefully:
Cut the stems at a 45 degree angle with a sharp knife.

Fill sterilised buckets with cold luke warm and add flower food.

Place the triteleia in the buckets - up to their necks in water.

Leave over night to condition before using.
Never leave cut flowers in direct sun light, near a radiator, in a draft or near fruit. (The gas used to ripen fruit will harm most flowers). Keep the triteleia in a cool place and always keep out of the way of children.