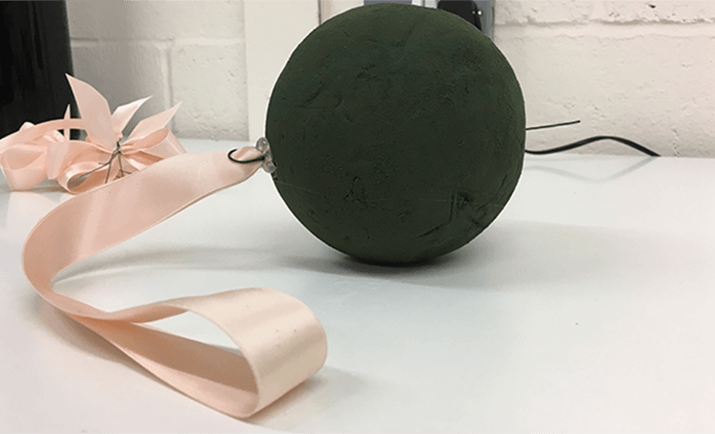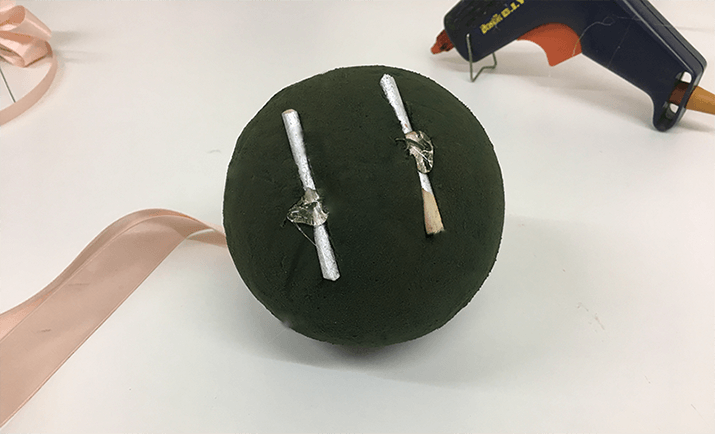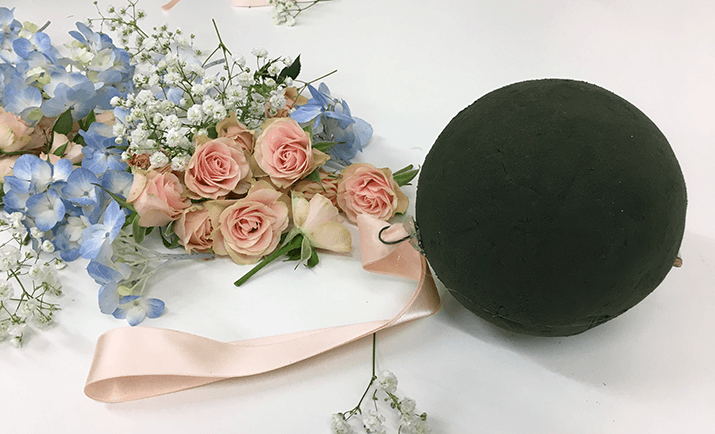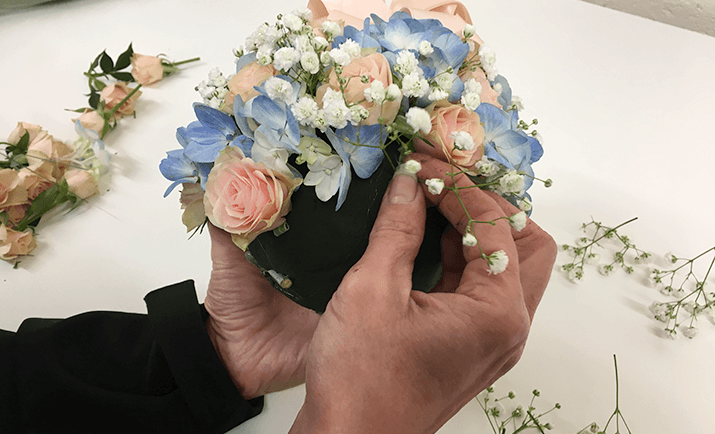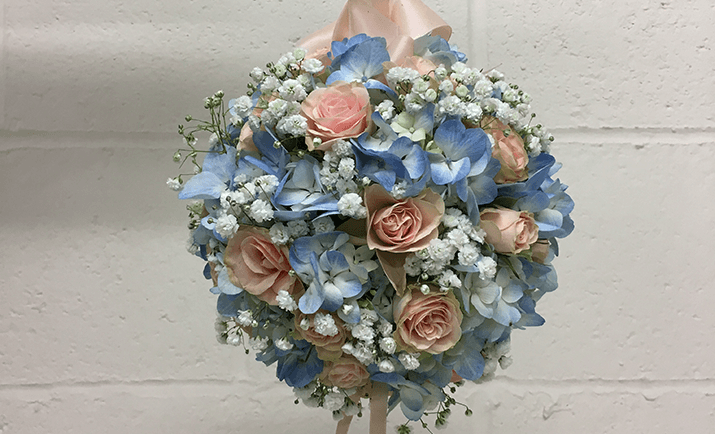 1
Prepare the floral foam sphere. Soak the foam in water until fully absorbed (approximately 30 seconds for the entire sphere). Attach the ribbon to the sphere - wire a loop of ribbon on sufficiently long wires that will protrude through to the base of the sphere.
2
Glue gun the top of the sphere where the ribbon enters the sphere. Place 3cm plant sticks into the base of the sphere and bend the wire over the sticks to anchor them and glue gun into position.
3
Once you have constructed the sphere, you will need to cut your chosen flowers into shorter stems (roughly 3cm long) and start to place into the sphere. Begin working from the top to the base creating an atheistically pleasing design.
4
Continue to work round the sphere holding it strategically. TOP TIP: When you have completed 3/4 of the sphere, turn the sphere upside down with your hand and strategically place your fingers between the flowers to ensure you can hold the sphere whilst completing the rest. This is to ensure you do not damage or bruise the heads of the flowers.
5
When complete, make sure you fill in the gaps made by your fingers. Finish the pomander with some extra ribbon around the top of the handle and at the base to create a draping effect
Top Tips
Remember to not over soak the foam because you don't want it to be too heavy or for the water to drip and run down the dresses, or ruin the ribbon etc

This style of arrangement can be made up the day before the wedding.

Ensure to condition the flowers well before you start working with them. All the information on conditioning can be found on the website. 

To store the flowers when made up, suspend the arrangement using door handles, etc. to ensure the flowers are not damaged or bruised on a flat, hard surface. Store the flowers in a cool environment. 

If using for a bridesmaid arrangement, remember to consider the age - this will be a determining factor for choosing the size of the pomander. For instance, for some younger bridesmaids, we would suggest to opt for a 6 to 9cm sphere as opposed to a 12cm for an adult bridesmaid.

For the handle you can use various materials - ribbon, pearls, raffia, hessian, anything that is substantial enough to support the sphere. For younger bridesmaids, it is important that you use a material that is comfortable on their hands as they are likely to be holding it all day.