Podcast on How to Make a Funeral Tribute Wreath
Sit back, relax and enjoy our podcast on how to make a grouped funeral tribute. Due to the lockdown restrictions, we have had to improvise as we are unable to reach the studio and film our monthly episode of Bud Green. We will be sharing podcasts and discussing the different styles instead of providing a visual explanation. You can find a step by step written version below along with an example of what we would expect the arrangement to look.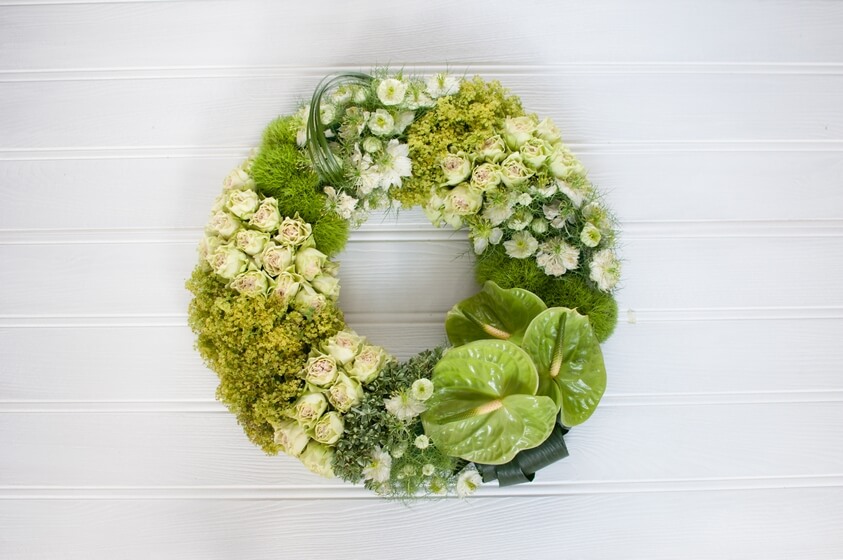 Top Tips
Monochromatic means using only shades of one colour, in this case green.

You could make it in the shape of an open heart, chaplet, cross or even a horse-shoe. Anything in fact, that enables you to achieve a grouped effect. By grouping the varieties, it enforces the shape and structure of the design.

The following ingredients (fresh) green Anthuriums, green spray roses, Dianthus green trick, which is part of the carnation family. We will also include molucella (also known as bells of Ireland) white Kahala rose, Aspidistra leaves and bun moss.

You will also require a frame, which in this case is a Bio wreath ring, stub wires (0.90mm wire) which you can cut and bend into hair pin shapes, or 4cm mossing pins to secure the moss with, and our trusty floristry kit.  

Instead of a wreath bio frame, you could use a wire wreath ring and bind with moss, or make a moss filled ring of chicken wire in almost a polo mint shape. Although the wire ring and chicken wire are not biodegradable, they are sustainable, as both the frame and the chicken wire can be reused.

Lay all the plant materials in variety groups on your workbench once they have been conditioned at least overnight, with your tools close to hand.

I would suggest filling the sink with water, and laying the bio frame wet foam side down in the water for literally a couple of minutes. That should be sufficient. You really don't want to over soak it, because it will become fragile and very brittle.

If using a moss ring, spray the moss with water when you are preparing it for the wire ring or chicken wire "polo", and I would spray it again once you have "mossed up" Your plant materials will draw the moisture they require from the moss, so it must be as saturated as possible.

Place the Anthuriums in groups of 3 if they are medium to large sized, or 5's if they are really small ones, at opposite sides of the wreath to each other, so you have 2 groups or clusters. Then use the dianthus green trick to form another group on one side of the Anthuriums, then pin moss the other side of them making another cluster. Make sure that you don't have any gaps between your groups.

Next we add the spray roses immediately next to the dianthus green trick. Again keep them in a tight group formation. Then repeat the process with the kahala roses beside the moss. Keep working the design principle at opposite sides of the wreath remembering to maintain balance in group size and structure.

Cut the molucella, also known as bells of Ireland or shell flower, into small pieces in between the "bells" and place them, again gropuped, in the gap left between the roses and spray roses on one side of the wreath. You can also use some pieces to hide any gaps under and around the Anthuriums if there are any.

Take the aspidistra leaves and strip them into ribbon-like pieces about 4cm width. Make leaf loops from the striips, and wire with a double leg mount. I gave an explanation of this in our previous podcast. Place these in the remaining gap on the wreath, once again in a grouped form.

You could make this up a couple of days in advance, as long as it is well watered. Don't place it anywhere too cold thought, as Anthuriums are tropical, and prefer a slightly warmer, domestic environment.