Roses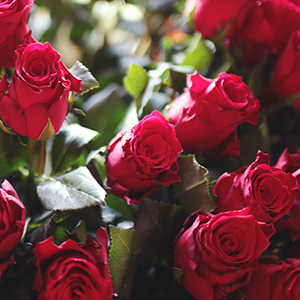 Wholesale Roses have always been one of the most popular flowers on the wholesale flower market and are available all year round in numerous varieties and grades. Here at Triangle Nursery, we tend to split wholesale roses into two categories – mainstream and specialist varieties.
Mainstream Wholesale Rose Varieties.
These wholesale roses are produced and sent to the flower auctions in great quantities. They are available year round and cover all basic colour requirements and stem lengths. Mainstream wholesale rose varieties are 'bread & butter' flowers for florist shops throughout the year and because they are grown in large quantities usually remain cheaper than specialist wholesale roses produced in smaller quantities.
Specialist Wholesale Rose Varieties
Specialist wholesale roses come into their own when a specific variety is required for a special event like a wedding. They are generally grown in smaller quantities by specialist producers and therefore command a higher price at auction. There are literally hundreds of specialist wholesale roses to choose from, covering all shades of colour, stem lengths and grades with new strains being developed every year.
Wholesale Roses - Countries of Origin
Wholesale Roses are grown commercially all over the world but the main countries that supply the UK wholesale rose markets are Holland, Africa, Israel, Colombia and Ecuador.
Wholesale roses from Ecuadorian roses are generally regarded as King - they have extremely robust stems, shiny foliage, beautiful large flower heads and a vase life to outlast any other wholeslale rose.
Here, at Triangle Nursery Ltd, our knowledge of wholesale roses is second to none. If you have any questions regarding colour matching, varieties, stem lengths, different grades and seasonal availability please feel free to contact us.
You can buy wholesale roses on our Web-Shop by clicking here.
General Availability Chart
| Jan | Feb | Mar | Apr | May | Jun | Jul | Aug | Sep | Oct | Nov | Dec |
| --- | --- | --- | --- | --- | --- | --- | --- | --- | --- | --- | --- |
| Yes | Yes | Yes | Yes | Yes | Yes | Yes | Yes | Yes | Yes | Yes | Yes |
| Jan | Feb | Mar | Apr | May | Jun |
| --- | --- | --- | --- | --- | --- |
| Yes | Yes | Yes | Yes | Yes | Yes |
| Jul | Aug | Sep | Oct | Nov | Dec |
| --- | --- | --- | --- | --- | --- |
| Yes | Yes | Yes | Yes | Yes | Yes |
Wholesale Roses - top 5 FAQ's
Does the stem length effect the size of the flower head of the wholesale rose?

Yes. The earlier the rose is cropped, the smaller the head.

Can you guarantee getting the exact wholesale rose variety?

Most of the time but not always. If your chosen wholesale rose is not on the cut flower auction on the day of purchase we may have to substitute with a similar rose variety.

Can you quote an exact price in advance for my wholesale roses?

It is very difficult because wholesale rose prices are determined by supply & demand at auction, but we can always give you a good idea based on experience.

How long does it take for wholesale roses to open?

Most wholesale roses are pretty much ready to use on delivery. All will open nicely within 24/48 hours.

How do I condition my wholesale roses?

You can also click here for advice on conditioning wholesale roses.
£1.03 per stem (ex VAT)
Order today for delivery 07 Dec to 09 Dec
£0.99 per stem (ex VAT)
Order today for delivery 07 Dec to 09 Dec
View all Roses
£1.03 per stem (ex VAT)
Order today for delivery 07 Dec to 09 Dec
£0.99 per stem (ex VAT)
Order today for delivery 07 Dec to 09 Dec